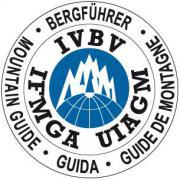 Since 2008, in Kyrgyzstan, we are developing the project of mountain guide education according  UIAGM-IFMGA standards. Project was supported by Mammut ,  Swiss Mountain Guides Association and the Association of British Mountain Guides.
From 2008 to 2017, 3 graduating classes of the school were held, prepearing 21 certified guides.
1st of December 2017 Kyrgyzstan Mountain Guides Assosiation (KMGA) become a member of IFMGA.
Now there are 44 members from 11 countries: Kyrgyzstan, Russia, Kazakhstan, Uzbekistan, Latvia, Ukraine, Iran, France, Germany, Italy and Australia.
Guides School  have got  the licence of  State Agency for Vocational Education in Kyrgyzstan.
For participation in the entry test, please, send  statement of climbing and ski resume to e-mail:  kmga.board@gmail.com.