Ice climbing, already gaining popularity, is a very exciting and spectacular sport and active leisure activity. Despite the fact that this activity requires a certain level of preparation and equipment, it is popular not only among athletes but also among enthusiasts of corporate leisure in Kyrgyzstan.
The most popular areas can be considered the rapids of a small river called Sharkaratma, which is en route to AkSai (30-40 minutes from the Alarcha base camp), as well as waterfalls and rapids of the nearest tributary of the Issyk-Ata River near the resort. By the way, the Issyk-Ata Resort with thermal pools offers an excellent opportunity to relax after a day of ice climbing. The drive from Bishkek to the resort takes 2-3 hours. It takes about 30-40 minutes to reach the first waterfall from the resort.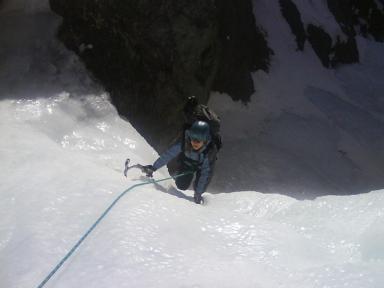 Sharkaratma. photo Andrey Puchinin
The AkSai icefall in Alarcha offers short routes ranging from 10-15 meters. Spending some time, you can find quite challenging routes with negative sections, overhangs, and caves. As everywhere else, choosing safe climbing spots requires carefulness and some knowledge of local conditions. Regularly, the city of Bishkek holds ice climbing championships at the AkSai icefall, as the conditions allow for selecting up to 10-12 compactly located routes of varying difficulty. This facilitates judging and enables competitions in a marathon format - easy and enjoyable.

Also worth mentioning is the AkSai waterfall on the way to the Ratseka parking lot. At the beginning of the waterfall, there is a 20-meter stretch of very solid frozen ice since this part of the waterfall is always in the shade. Further on, the most challenging and interesting part is the ice 'chandelier,' formed from daily thaws, and beyond that... not everyone climbed, as the 'chandelier' requires skill and careful assessment of the route's condition :-)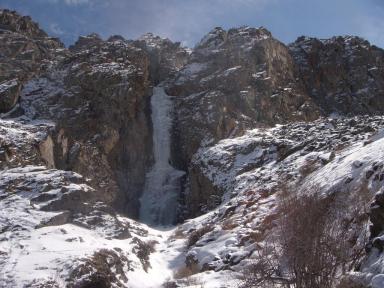 AkSai waterfall. photo D.Grekov
In the vicinity of Bishkek, there is also the Pigeon Waterfall in the Chon-Kurchak gorge, where ice climbing on the waterfall's ice tube is, according to experts, 'delicate,' as the walls of the tube are quite thin. The waterfall is more than 30 meters high.
Relatively long and easily accessible ice routes, ranging from 8 to 15 pitches, are perhaps only available in Alarcha near Bishkek. These popular routes include Low on Svobodnaya Korea (5A), Ilyushenko on Baychichekey (4B), and Plotnikov's route (4A) on Korona.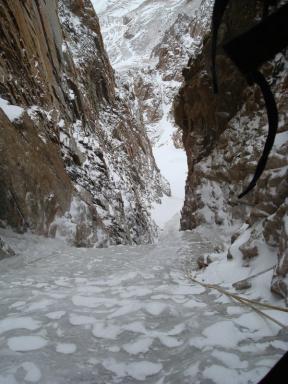 Ilyushenko route. photo K.Aktaev

Each of the mentioned routes has key sections with steepness ranging from 70-80 degrees and a length of about a pitch. In other aspects, climbing is quite comfortable—you can easily 'run' on ice screws or refine your technique with your favorite ice tools. The only inconvenience on some sections of these routes is the abundance of rocks embedded in the ice. Therefore, it's essential to have spare drills and a file. Additionally, completing certain routes and descents requires specific mountaineering skills and knowledge of the area.